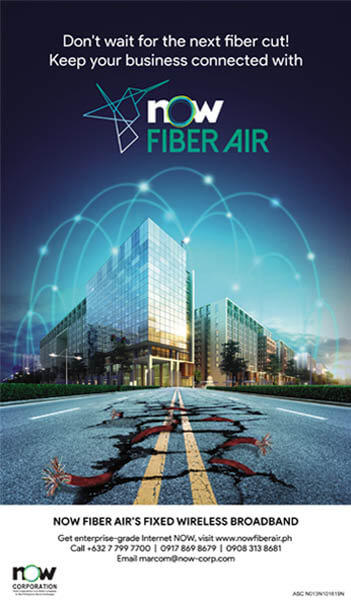 NOW Corporation, a publicly listed technology firm (PSE: NOW) is once again trailblazing in the deployment of next generation fixed wireless connection with the roll out of its gigabit speed broadband service.
Since launching Fiber Air in 2016,  NOW has become the country largest  fixed wireless access broadband provider, capitalizing on the latest global technological innovations in the category to offer gigabit speeds on wireless platform.
Union Bank of the Philippines has recently availed of Now's Gigabit per second (Gbps) broadband connectivity in its corporate headquarters in Ortigas Center, Pasig City. The country's leading digital bank has entered into a multi-year Agreement with NOW to complete the bank's resiliency plan. Another NOW broadband service subscriber is BrenPro, the Philippines' largest and most diversified company in the video games and e-sports industry. BrenPro's NOW-powered e-sports facility has the capacity to house the training ground of Filipino e-sports athletes for local and international competitions.
Its quick-to-deploy, cost effective, and guaranteed broadband speed service have attracted NOW subscribers who either do not have access to fiber connection or need to have wireless service as a fail-proof option.  These are enterprises which cannot afford any interruption of business operations due to broadband fiber cuts and their existing provider's long restoration periods. 
NOW's proven reliability is gaining recognition  as the most ideal solution to augment on-ground fiber based connections and enable seamless and continued internet connection, under any condition.   Moreover, NOW has the unique ability to offer additional bandwidth capacity on demand. For UnionBank, BrenPro and other clients like hotels and event spaces, this is seen as valuable flexibility to meet occasional peaks in broadband demand.
At the core of NOW's service  is  guaranteed delivery of committed speeds . A subscriber who pays for a 1 Gbps plan gets 1 Gbps connection speed all day, every day.  To illustrate this, imagine  EDSA during rush hour.  A NOW subscriber drives his car on a lane dedicated exclusively for his own use.  In contrast, a subscriber  of shared plans, which are typically offered by other providers, has his car on a lane that is shared with all  the other cars.   This is the reason why subscribers of shared plans sometimes experience slowing down of their internet speed during peak hours.
To date, NOW serves almost 400 enterprises/buildings in Metro Manila.  Its near term plans are twofold: firstly, to pursue  more expansive coverage of Metro Manila to serve the pressing demand for innovative solutions and resiliency; and secondly,  to expand in nearby cities outside of Metro Manila  especially those that are unserved or underserved. 
If you need NOW's guaranteed internet connection for your business, you may visit and sign up at www.nowfiberair.ph or inquire by calling +632 7 799 7700.
Source: https://www.philstar.com/business/2019/10/07/1958049/unionbank-taps-now-digital-transformation