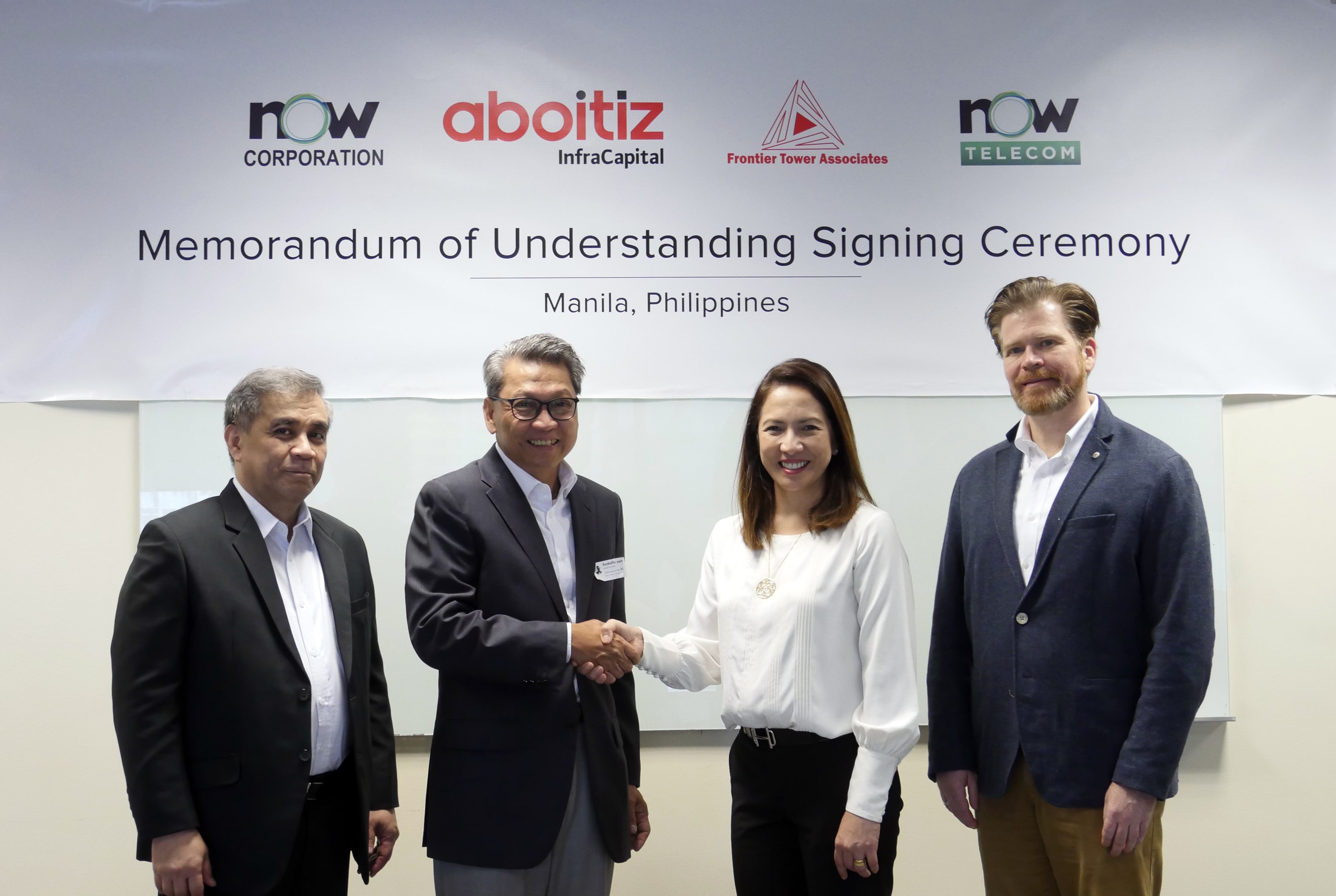 10 December 2019
Manila, Philippines
NOW Telecom Company, Inc. ("NOW Telecom") is moving another step nearer towards its goalof providing 5G or the fifth-generation wireless network technology which will allow the delivery of up to 20 gigabit per second speed to enterprises and homes.
NOW Telecom, together with affiliate and listed firm NOW Corporation ("NOW Corp."), signed a memorandum of understanding with Aboitiz InfraCapital Inc. ("AIC") and Frontier Tower Associates Management Pte. ("FTA"). The parties agreed to discuss and negotiate the lease of build-to-suit sites, towers, and passive telecommunications infrastructure and facilities that will be made available for the installation of NOW's facilities and equipment in order to provide telecommunications and/or internet services.
Signatories to the MOU are NOW Telecom President Rodolfo Pantoja, NOW Corp. Chief Technology Officer Rene Rosales, AIC Chief Operating Officer Cosette Canilao, and FTA Executive Chairman and CEO Patrick Tangney.
"We welcome the government initiative to foster tower sharing because it reduces the cost of deployment while also accelerating the network rollout as 'difficult or costly to acquire' sites become feasible as the cost is shared among operators," Rodolfo Pantoja said.
"We started our engagement with the Aboitiz Group for the provision of broadband connectivity to Union Bank of the Philippines. We are happy to explore more opportunities with Aboitiz and its partner, Frontier Tower Associates, in key areas such as shared infrastructure," Pantoja said in a statement.
AIC and FTA signed a cooperation agreement for the development, construction, operation, and maintenance of a common tower network last June 19, 2019. Together, they aim to provide passive wireless communications infrastructure, such as towers, poles, for the use of wireless companies and Internet service providers such as NOW.
"We are very pleased to work with NOW Telecom and NOW Corp. on this engagement, which brings us even closer to our goal of building up the country's connectivity by implementing tower sharing. This is very much in line with Aboitiz InfraCapital's commitment to advance the digitalization of business and communities through relevant infrastructure-solutions," said AIC COO Cosette Canilao.
Aboitiz InfraCapital will bring to this project the Aboitiz conglomerate's extensive experience in building and operating provincial utility networks like the Visayan Electric Co. Inc., Davao Light and Power Co. Inc., and Cotabato Light and Power. Meantime FTAP, a member of established international tower firm, Frontier Tower Associates Group (FTA), will bring the experience gained from rolling out and operating thousands of towers in ASEAN.
NOW Corp., a company listed in the Philippine Stock Exchange, is engaged in the business of telecommunications, media and technology. It provides access to broadband connectivity solutions to enterprises, commercial and residential buildings, while NOW Telecom is a public telecommunications entity with a 25-year congressional franchise to construct, install, establish, operate, and maintain wire and/or wireless telecommunications systems. The latter is also a holder of a cellular mobile telecommunications system (CMTS) license, granted by the National Telecommunications Commission.
NOW Telecom is one of only four cellular mobile license holders apart from SMART, Globe Telecom, and Dito Telecommunity.
"We are committed to improving the Philippines' connectivity and look forward to working together with NOW", FTA Chairman and CEO Patrick Tangney said.
In October 2019, NOW Corp sealed a multi-year agreement with UnionBank for the deployment of Now Fiber Air, its enterprise-grade broadband product in the Aboitiz-led lender's headquarters in Pasig City. UnionBank is in the midst of a digital transformation initiative that aims to bring its banking services and products closer to consumers through the Internet.  In addition, NOW has struck an agreement together Union Bank of the Philippines (UnionBank) for the development of new 5G products in the Philippines.
In late-October 2019, NOW has also entered into a strategic partnership with SK Telecom, South Korea's largest telecom player. The partnership shall leverage on SK Telecom's expertise to develop 5G technologies and build a 5G stand-alone network in the Philippines. The trilateral (NOW Corp – Now Telecom – SK Telecom) agreement includes critical areas of collaboration and development for 5G in the Philippines: Technical Roadmap Planning – Network Conceptualization and Design – 5G Core Network Training – Establishment of 5G stand-alone (SA) network commercial infrastructure – In-building Solutions and 5G B2B Service Development.
This is just the latest of several partnerships and strategic alliances entered into by NOW as it readies itself to provide 5G.