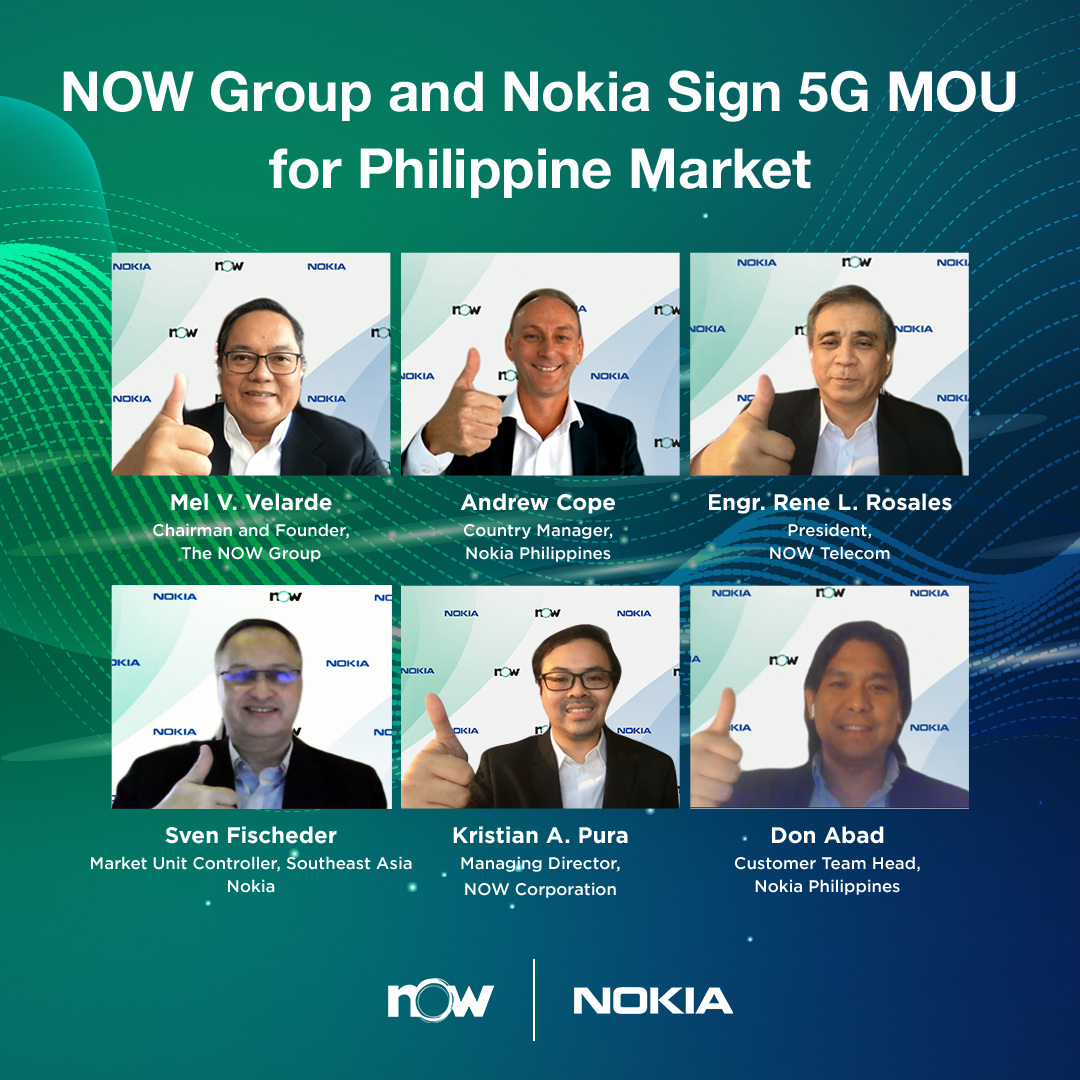 NOW Group and Nokia Sign 5G MOU for Philippine Market
Collaboration on 5G standalone network and 5G use cases in the Philippine market will spur more growth especially in the enterprise, government and residential broadband markets

NOW to leverage Nokia's wealth of expertise in the 5G technology and its game-changing capabilities to bring the true benefits of 5G to consumers while opening the door to new opportunities in industrial and manufacturing use cases.
01 December 2020
Manila, Philippines – NOW Corporation and NOW Telecom Company, Inc. (collectively "NOW" or "NOW Group") signed a Memorandum of Understanding (MoU) with Finnish technology leader Nokia to introduce 5G network and 5G use cases in the Philippines.
Under the MoU, collaboration between the three parties will focus on the expansion of NOW's current broadband telecom network by rolling out a 5G standalone network in the Philippine market. Joint development projects may also be undertaken under the scope of the MoU which also provides a strategic direction for all parties leading to a commercial framework agreement.
The collaboration with Nokia signifies the pivotal point in NOW Group's strategy in penetrating the growing demand of broadband connectivity and multimedia services in the enterprise, government and residential market segments. Under the MoU, collaboration between the companies will also focus on the appropriate use cases of the 5G technology in the Philippine market.
As of 30 November 2020, Nokia has 133 commercial 5G contracts worldwide, positioning it as a global leader in the delivery of 5G solutions.
Most of the countries that are deploying 5G is non-standalone (NSA) whereby 5G radio networks are being overlaid on existing 4G networks. 5G standalone (SA) delivers enhanced mobile broadband and ultra-low latency. 5G SA supports multimedia services and applications, such as Industry 4.0 for manufacturing, 8K video quality streaming, mobile AR and VR applications and other use cases for enterprise, government, and residential market segments.
"This NOW-Nokia Agreement on 5G Collaboration shall bring about the multi-gigabit broadband Internet era in the Philippine Telecom, Media and Technology markets. NOW's strategy is clear: to expand its current guaranteed service to high-end markets via 5G Fixed Wireless Access and extend this compelling customer experience to consumers via 5G mobile cellular broadband service. Having no legacy networks, NOW's Standalone 5G Network shall rise above competition. With Nokia as our technology partner, we are confident NOW and its customers would succeed," says Mel V. Velarde, Founder and Chairman of the NOW Group of Companies.
"We're delighted to support NOW in realizing the full vision of 5G. 5G SA, with its high speed, low latency performance and edge computing will enhance business processes, bring new applications and benefits to consumers, and the wider industry. We're confident that our market-leading technology will play a crucial role in setting the right conditions for 5G to become a success in the Philippines," said Andrew Cope, Country Manager for Nokia Philippines.
It can be recalled that NOW Telecom received its renewal of provisional authority in September 2020 to install, operate, and maintain a nationwide mobile telecommunications system. The authority is not specific to 3G or third generation mobile communications technology but can extend to other technologies such as 4G, 5G, or even outer space.
About Nokia
We create the technology to connect the world. Only Nokia offers a comprehensive portfolio of network equipment, software, services and licensing opportunities across the globe. With our commitment to innovation, driven by the award-winning Nokia Bell Labs, we are a leader in the development and deployment of 5G networks.
Our communications service provider customers support more than 6.4 billion subscriptions with our radio networks, and our enterprise customers have deployed over 1,300 industrial networks worldwide. Adhering to the highest ethical standards, we transform how people live, work and communicate. For our latest updates, please visit us online www.nokia.com and follow us on Twitter @nokia.