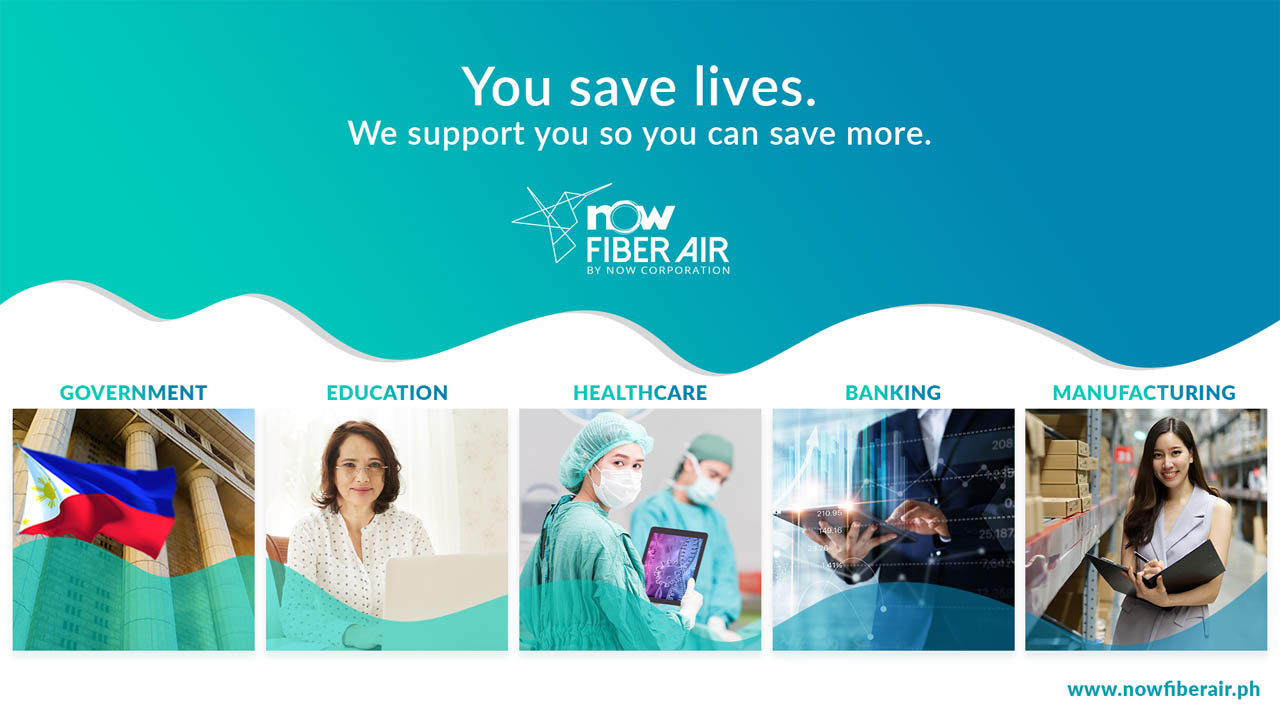 As the corporate markets experience pressure to operate nationwide, their rapid digital transformation, which is ironically brought about by the pandemic, has opened new opportunities for unprecedented revenue growth. Their key infrastructure requisite is a seamless and uninterrupted broadband service connectivity with discriminatory quality of service. NOW's corporate broadband connectivity which proved successful in Metro Manila and certain areas in Calabarzon paves the way for its expansion in key cities nationwide.
"If a company's profile operates like our current corporate clients that demand strict service level agreements (SLA), then that company fits our target potential. NOW aims to be their primary or secondary broadband provider," says Mr. Henry Andrews B. Abes, newly appointed NOW President and CEO.
NOW Corporation, in partnership with NOW Telecom Company, Inc., has announced that its gigabit broadband service will be made available in key cities nationwide.
This growth strategy that the Company will pursue is guided after several economic conditions has led the Company to be bullish about the growth in sub-urban areas. First, the government's "build, build, build" program has fuelled the growth of sub-urban economic centers. Second, the upcoming elections next year shall support the economic growth as spending will increase. Lastly, as more people get inoculated, consumer spending is also expected to improve -a welcome boon to the corporate sector.
"All these economic factors shall spur the demand of gigabit broadband services especially in key cities outside of Metro Manila. Our strategy is to first go after the corporate, enterprise, and government market segments. This market segment is more discriminatory when it comes to their broadband connection and being able to serve this market segment shall allow NOW to cement its presence in economic growth areas. We will expand where the growth is," says Mr. Abes.
Mr. Abes added, "we have been providing broadband connectivity to critical industries such as banking, healthcare, government, industrial economic zones, and even to logistics. All these industries rely on broadband connectivity in order to continue their services during this time of pandemic. Through our partnership with our telecom affiliate, NOW Telecom, we aim to deliver this 'gigabit broadband revolution' nationwide especially at this time when broadband is needed the most."
NOW has made a mark in the delivery of Internet access to corporate and enterprise segment in Metro Manila through its Fixed Wireless Access (FWA) dubbed as "NOW Fiber Air". It provides always-on access to the Internet to speeds of up to 2.4Gbps and mainly catering to the enterprise segment including hospitals, banking, schools, hotels, government agencies, and SMEs. NOW also offers residential broadband services for people living across Metro Manila who live inside apartment complexes or condominiums with limited wireless coverage.
For its part, NOW Telecom can solidify its entry into the market as it can be recalled that the government has renewed its legislative franchise for another 25 years to build and to operate a telecommunications network nationwide.
"NOW Telecom has the technology of providing over Gigabit speed of capacity to corporate clients. These technologies can either be the use of fiber optic, fixed wireless, or even satellite and 5G, we will be able to serve corporate and government clients needing this gigabit service nationwide. Once we know the need, we can design a complete and integrated solution," says Engr. Rene L. Rosales, NOW Telecom's President and COO. Engr. Rosales added that NOW Telecom possesses the most competitive franchise to operate a nationwide wired, wireless, satellite and cellular mobile telecom services networks, among others.