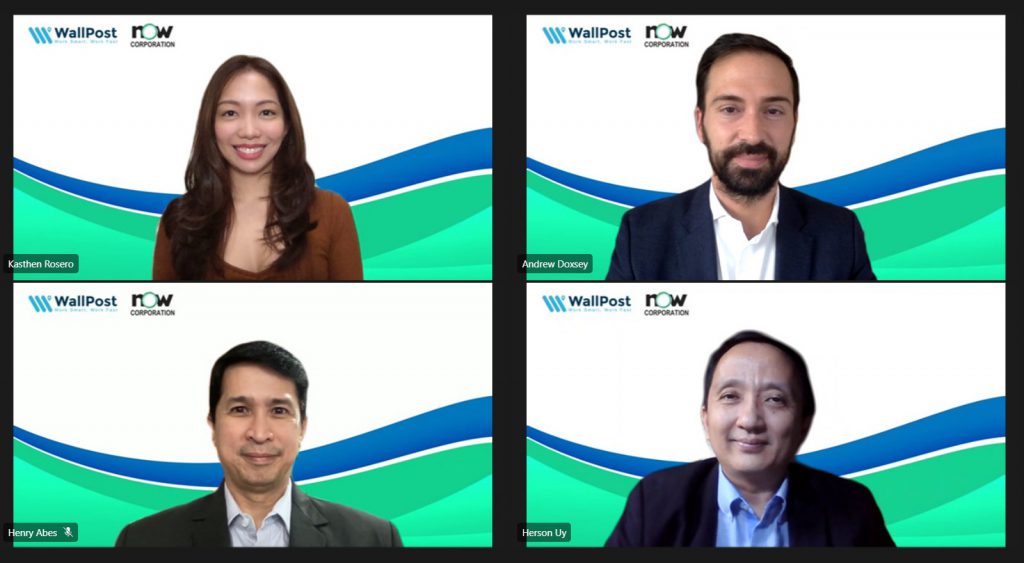 NOW Corporation executives, Henry B. Abes, President & CEO and Kasthen V. Rosero, Director of Marketing Support Services with WallPost Company's Andrew Doxsey, CEO and Herson Uy, Head of Partnerships Asia
22nd November 2021
Manila, Philippines
Publicly listed technology firm, NOW Corporation ("NOW") announced on 22nd of November 2021 that it has signed an exclusive partnership agreement with global tech firm WallPost Company in order to help digitally transform small and medium enterprises in the Philippines by providing a cloud-based Enterprise Resource Planning solution (ERP).
WallPost Company, with its headquarters operating out of its California office, is a global tech firm that has exclusive agreements with global telecom operators such as Ooredoo in Qatar and Tunisia and Indosat in Indonesia. WallPost Company has presence in 7 countries and has a current customer base of more than 7,000 users across hundreds of SMEs worldwide.
As Philippine businesses are forced to adopt digital solutions caused by the pandemic, NOW saw the need to provide the market an easy-to-use and budget-friendly platform in partnership with WallPost Company. Philippine business owners are found to spend too much time manually executing administrative tasks and not enough time on data analysis, customer creation and retention which is vital for a business to survive. NOW's end-to-end ERP solution dubbed as "NOW EazyBiz", powered by WallPost, eliminates the need for business owners to manually manage their data and operations and enables them to focus more on their business goals. NOW EazyBiz is especially beneficial for business owners that manage multiple branches and consider accurate data and reports crucial to their decision-making. On the other hand, businesses with teams as small as 10 employees can also benefit greatly from using the ERP solution.
"This new service that we are offering to the Philippine SME market bolsters NOW's positioning to provide high-value, high-impact technology services. The pandemic has forced businesses to digitally transform themselves in order to stay in the game by improving and automating internal processes that would result to improved operational efficiencies and superb customer experience," says Henry Andrews Abes, President & CEO of NOW Corporation.
NOW EazyBiz has various functions that allows PH business owners to manage their operations remotely and make data-driven decisions. The software includes everything a business needs to automate their business processes including accounting and finance, project management, CRM, HR/payroll/benefits administration, inventory tracking, and purchasing controls. All available modules are fully customizable to the needs of any type of business. Some of the specialized modules are suited for restaurants, retail, manufacturing and construction companies. NOW EazyBiz's comprehensive reporting capabilities unifies data from different departments which provides business owners accurate and real-time information on their company's financial and operational status.
"We are now living in a new normal whereby businesses are forced to migrate from doing things manually which often results to data and asset pilferage, slow client response, and ineffective management. NOW EazyBiz empowers business owners to monitor the performance of their companies covering every critical facet of the value chain process from HR, CRM, Sales, Finance & Accounting, to asset inventory and tracking plus many more customizable modules. Business owners and their employees will be fully equipped with business analytics and information to make the necessary decisions on how they can elevate their business operations against competition," Abes added.

WallPost Company CEO, Andrew Doxsey and NOW Corporation President & COO, Henry B. Abes
"Together with NOW Corporation, we will help small businesses in the Philippines capture a holistic picture of their business and empower our joint customers to better access digital technologies, giving them a greater control over their data," says WallPost CEO Andrew Doxsey.
"Philippines is a critical market for WallPost, and we see great potential for digital transformation. This partnership with Now Corporation, we believe will fundamentally rewire how small businesses operate, and further ignite growth of the digital economy in the Philippines," added Doxsey.
NOW EazyBiz by WallPost Software is hosted by Amazon Web Hosting which ensures high-level security from possible online threats and keeps data fully secured.
Business owners can explore the NOW EazyBiz software solution for free for 30 days at www.noweazybiz.ph.