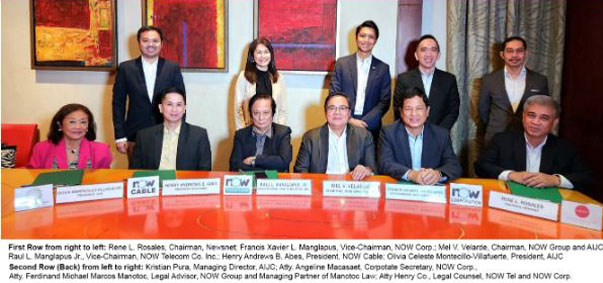 4 October 2022
Manila, Philippines
PUBLICLY-LISTED company NOW Corp. announced on Monday its plan to acquire a substantial equity ownership in Newsnet, as part of its thrust to grow, consolidate and beef up its core business.
"The Board of Directors has just approved the resolution to authorize the management of NOW Corp. to begin negotiating for acquisition of equity ownership in Newsnet. And this is very strategic on our part because Newsnet is an affiliate but NOW Corp. does not own any equity interest in Newsnet," NOW Chairman and Founder Mel Velarde told reporters during the company's press briefing in Mandaluyong City.
"Our dream is a minimum of 20 [percent of equity ownership] and a maximum of 100 [percent] over time," he said, while citing their target of completing the negotiation before end of the year, either through direct investment, share swap, and preferred shares, etc.
The acquisition will be subject to applicable approval from regulatory agencies and government bodies.
Newsnet has an authority from the National Telecommunications Commission (NTC) to install, operate and maintain in the 25.35 Ghz to 26.35 gigahertz (Ghz) spectrum band Local Multi-Point Distribution System (LMDS) to deliver interactive pay television (TV) and multimedia services in Metro Manila and parts of Luzon, North Luzon, Visayas and Mindanao.
This move to acquire Newsnet will upgrade NOW Corp.'s existing fiber network to 5G – 26 Ghz to deliver interactive pay TV and multimedia services, laying the foundation for the intensive synergy with its affiliate Now Telecom Company, Inc. The latter has the license to operate nationwide mobile telphony services not specific to 3G, meaning including 5G and Satellite direct to mobile devices, homes and enterprises.
"The potential acquisition of NOW Corp. of NEWSNET achieves two objectives. First, the increase of capacity from 2.4 Gbps per existing base station to 9Gbps, an almost 500 percent increase. This gigabit capacity shall be enjoyed by residential, enterprise and vertical markets," said Francis Xavier L. Manglapus, vice chairman of NOW Corp.
"Second is the increase of area coverage over Metro Manila, currently in 50 market areas and expanding in some of parts of South Luzon, North Luzon, Visayas and Mindanao."
According to NEWSNET Chairman Rene Rosales the need for larger capacity and higher speeds with better latency is expected to increase over time.
Meanwhile, NOW Corp., Now Telecom and Newsnet with Now Cable Inc., signed a memorandum of agreement creating a common digital infrastructure for internal, private, and public sector's use.
"The NOW Group of Companies together will build a digital infrastructure for its internal requirements and optimize the network's performance and also leverage on our shared resources," Velarde said.
Author: Roderick Abad
Source: BusinessMirror