YOU NEED IT, WE WILL FIXIT!
Offers desktop hardware troubleshooting, desktop software installation or re-installation, desktop network configuration, clone desktop assembly, malware detection, prevention and cleanup, data backup support, system inventory, peripheral troubleshooting, minor repairs and adjustments. We are also available for MAC!
Your company is assured of unparalleled IT support such as router/firewall installation, wireless access and internet security configuration and support, WAN consultation, and network troubleshooting and optimization!
Efficient with the emergence of new normal. Now, remote desktop and over-the-phone support, call and email ticketing system, and knowledge-based online system are within your company's reach!
Guaranteed emergency visits and warranty services for admin activities and hardware.
The customers and their IT concerns are always aligned with its assistance through online asset monitoring and inventory system.
Maintains clean and precise databases and allows clients to raise IT concerns directly through online access to the helpdesk and asset management system, asset inventory and activity reports, and field activity reports.

NOW FIXIT! VERSUS THE REST


NOW FIXIT! VERSUS THE REST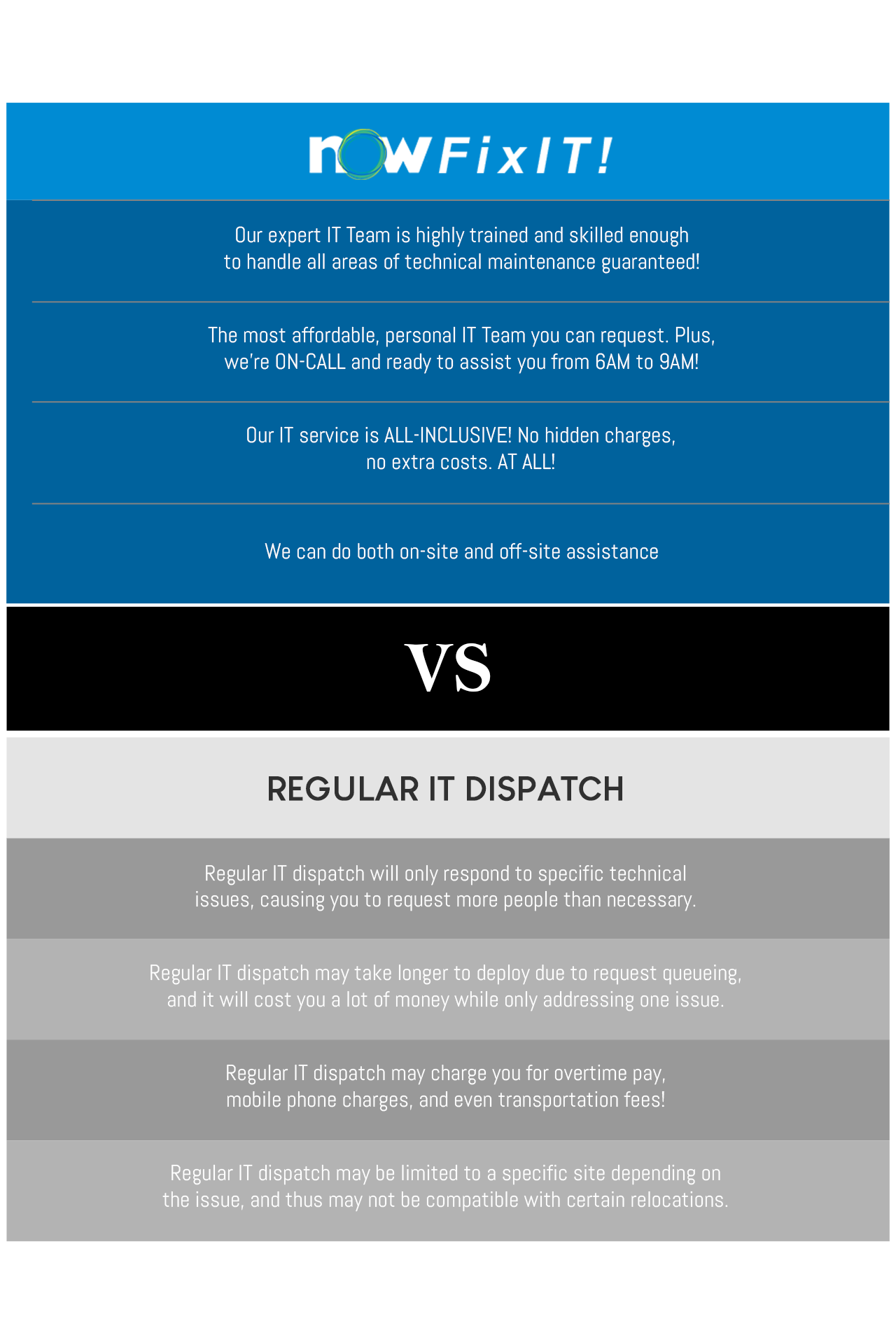 WHY CHOOSE 

We will never send you a resignation letter, so you won't have to worry about finding new people to replace your staff.
Our personnel are constantly prepared and updated on technological breakthroughs, ensuring that our systems are always current.
We'll walk you through a professional assessment and recommendations for improving your facilities as a whole. This is something you don't often hear from a technician.
We are backed by 24-hour internet-based solutions for your everyday technical support needs and basic operation tutorials
No hidden costs and high investments